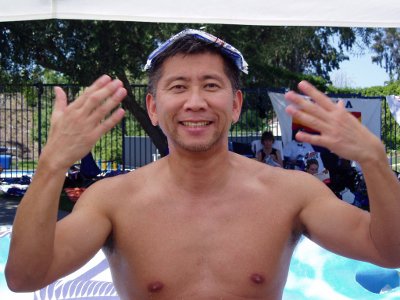 Think like a human...Swim like a Grunion!


There is no time like the present to get in shape and meet some new friends! We have swimmers of all levels and we strongly encourage anyone interested in swimming to come join us in the pool.
Our Team
We have approximately 80 people on the team. Our team ranges in age from 19 to 80+ years old. We have swimmers at all levels of ability from rank beginners to expert competitive swimmers.
Requirements
You must be at least 18 years of age
You can swim (don't worry about speed, distance or technique)
Complete the Grunion Application
You become a member of SPMS by completing the SPMS registration process*
Pay annual dues to SPMS and monthly dues to the Long Beach Grunions (see below)
You have the desire to be part of a fun, dynamic swim team
New swimmer orientations are Tuesday evenings and Saturday mornings during practice.
Our Membership Coordinator is happy to answer all of your questions.
* SPMS (Southern Pacific Masters Swimming) allows registration via a paper form that can be completed and mailed with a check or via an online process using your credit card. Complete information is available at their Website.
We welcome beginners! If you are really uncertain about joining, come by and watch one of our practice sessions, talk to our coach and swim team members and then join us for food afterwards and get to know us.
Dues
Team Dues: $45 per month
In order to keep our team functioning, we charge a small monthly fee to all of our members. This fee pays for pool rental, club registration to the Masters Association, insurance, etc. Your dues also cover the regular entry fees at each pool. Dues are collected from team members the first week of every month. Monthly dues are non-refundable as the coach and pool must be ready for practice regardless of whether or not you can make every practice.
2017 USMS Dues: $56 per calendar year
You will also need to have a membership with USMS. USMS provides our insurance and also allows you to enter Masters Swim Meets. In addition you get a subscription to Swim Magazine, a bi-monthly national swimming publication. New members have a one month** trial before they are required to join USMS.
** one contiguous month